Amenities
Raintree Lake represents an excellent value when comparing annual assessments to the wealth of amenities available for the exclusive use of residents and their guests. The Raintree Lake clubhouse, activity center and the pontoon boat can be rented at very reasonable rates compared to surrounding lakes or Jackson County Parks and Recreation. Raintree also offers swim docks; courtesy loading boat docks; playground equipment; an Olympic-sized, zero-entry swimming pool; snow sledding; walking trails; and scores of organized activities.
Clubhouse Slideshow
Clubhouse Rules 2018
for additional information.
Duck Pond Activity Center Slideshow
DPAC Directory Rules 2018
 for more information.
Pontoon Boat
  2014 24′ Bennington Pontoon Full-day rental (8am-9pm)  $185.  Half-day rental (8am-2pm or 3pm-9pm) weekends  $110.  Half-day rental (8am-2pm) Monday-Thursday (excluding holidays) $55.  Half-day rental (Mon – Thur) 3:00pm to 9:00 pm – $100.  Full day (Mon – Thur) $160.    Deposit $250.  Please see the Rental Pontoon Policy for more information.
Visit the community calendar to check availability of the Clubhouse, Duck Pond Activity Center, and the pontoon boat. For more information or to make reservations  email us or call 816-537-7576.
Swimming Pool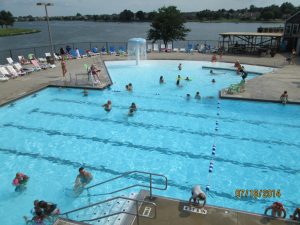 Olympic-sized pool with zero depth area and slide.   Pool Rules 2018
Walking Trails
In addition to convenient sidewalks on many of our streets, Raintree offers a network of walking trails, which is highlighted on the map below.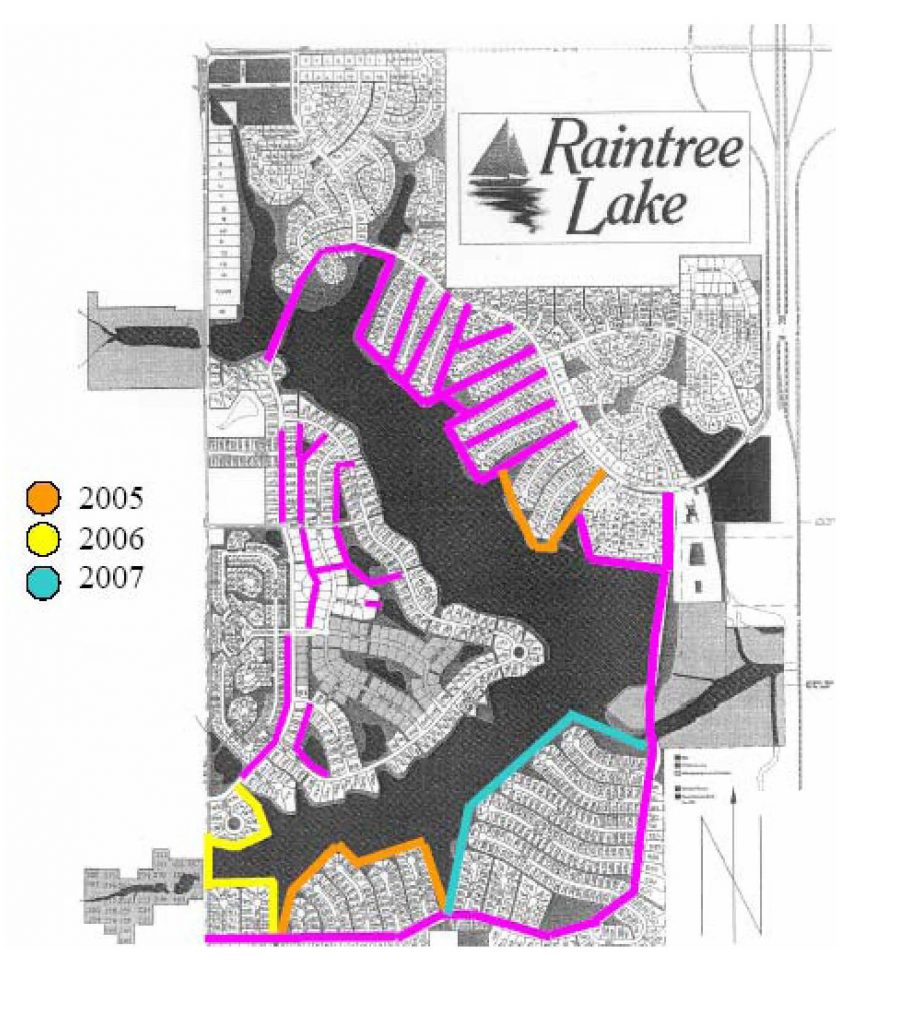 Other Amenities
Location of other amenities is shown on the map below. Red:  Swimming docks Green:  Courtesty boat docks/ramps for loading and unloading Yellow:  Playground equipment Purple:  Olympic-sized pool Light blue:  Fishing ponds Dark blue:  Snow sledding hill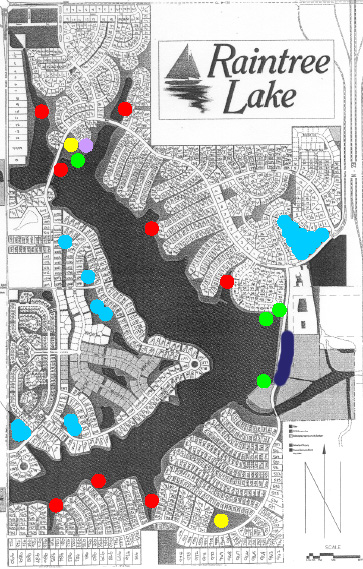 Activities
Some of the free activities offered to Raintree residents include:
Adult Mixers
Easter Egg Hunt
Lake Clean-Up
Spring Community Garage Sales
Fishing Derby
Teen Swims
Family Swim Night
Summerfest Parade and Carnival
Fireworks on the 4th
Fall Community Garage Sales
Story Time with Santa