Activities Committee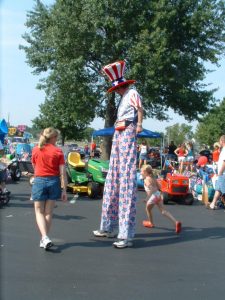 The Activities Committee is the party committee! The Easter Egg Hunt, the Spring Fling, Oktoberfest – all of them are planned by the Activities committee. Volunteers can sign up to assist with a single event or to participate in all events. Contact the office for more information.
Family Activities –   2016 Raintree Summerfest Parade & Carnival Info for July 4th!     Parade Information 2016
Our mission is to bring together a sense of community at Raintree Lake by planning and organizing family-focused activities and events throughout the year for ALL Raintree residents to enjoy. The Family Activities are designed to include all residents of Raintree Lake, including children, teens and adults.  This is the "FUN" committee to join!!  The activities include, Easter Egg Hunt, Fishing Derby, Movie Night, Summerfest (Parade, Bike Decorating contest Carnival, Boat Decorating contest and Boat parade), Family Swim, Teen Swim, and Breakfast with Santa.  This committee will give you a "voice" at Raintree Lake and you will meet others who share your passion!  For more information, please contact the RLPOA office.
Adult Activities – The Adult Activities Committee enhances the community by hosting neighborhood adult-only events (18 years of age and older).  The mission of this committee is to provide a fun and relaxing atmosphere for all adults of all age groups to get together with friends and neighbors old and new, enjoy some good food, music, a game of cards or just a relaxing evening out.  some of the events this committee hosts are Pizza Parties, Winter Warm-Up party, Spring Fling and Oktoberfest.  Being part of this committee is an excellent way to get acquainted with neighbors and a fun way to take part in making our events festive and inviting for all our adult residents.  All of our events are catered; we also have a band for some.  For more information, please contact the RLPOA office.
 2015 Fishing Derby on Memorial Day – Trophies were given this year to 1st, 2nd, and 3rd place of each age division.
Previous Years' Minutes
September 12, 2007       May 10, 2006       September 14, 2005       August 10, 2005       March 9, 2005
February 7, 2005       November 10, 2004       September 8, 2004       June 6, 2003